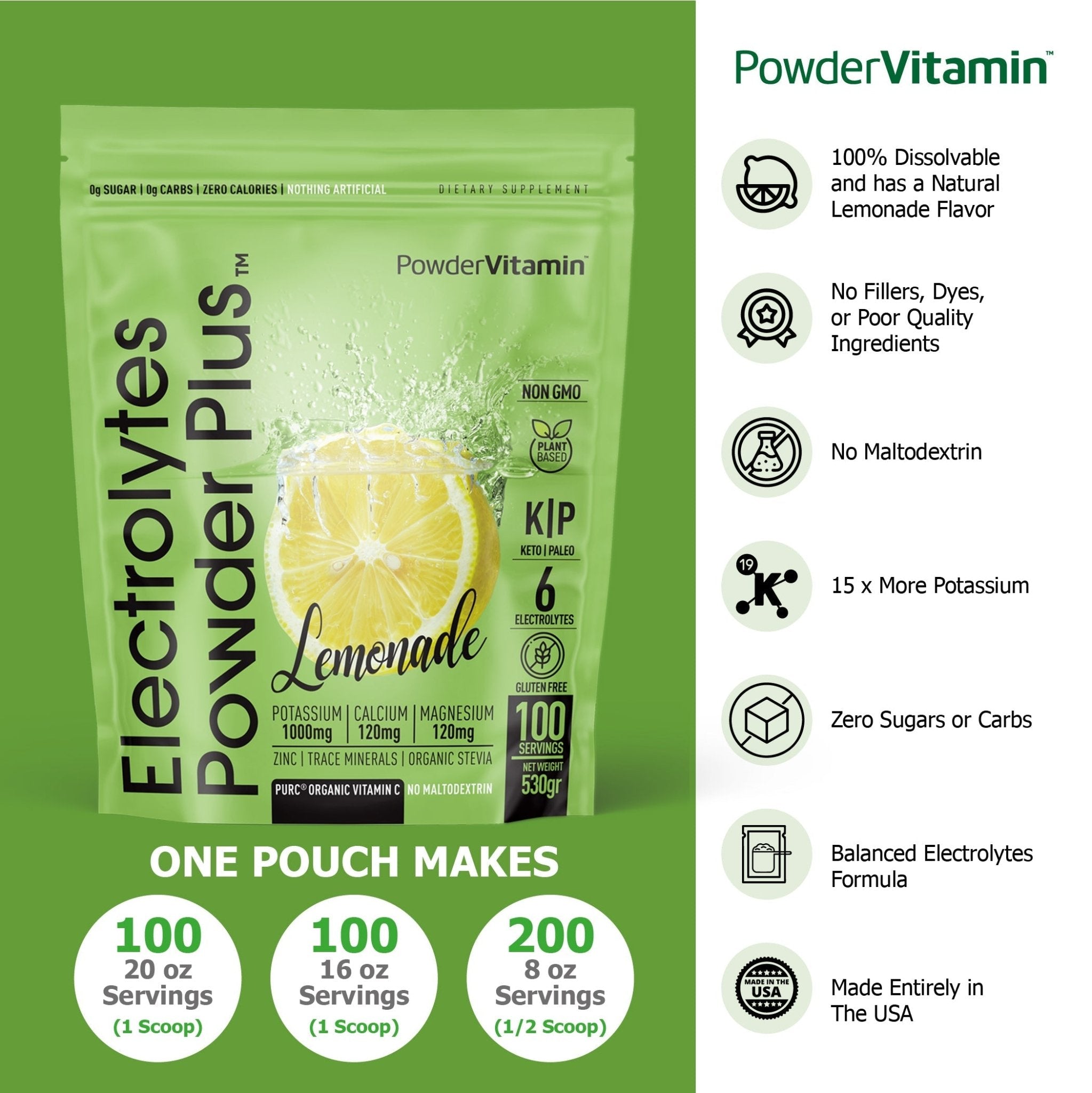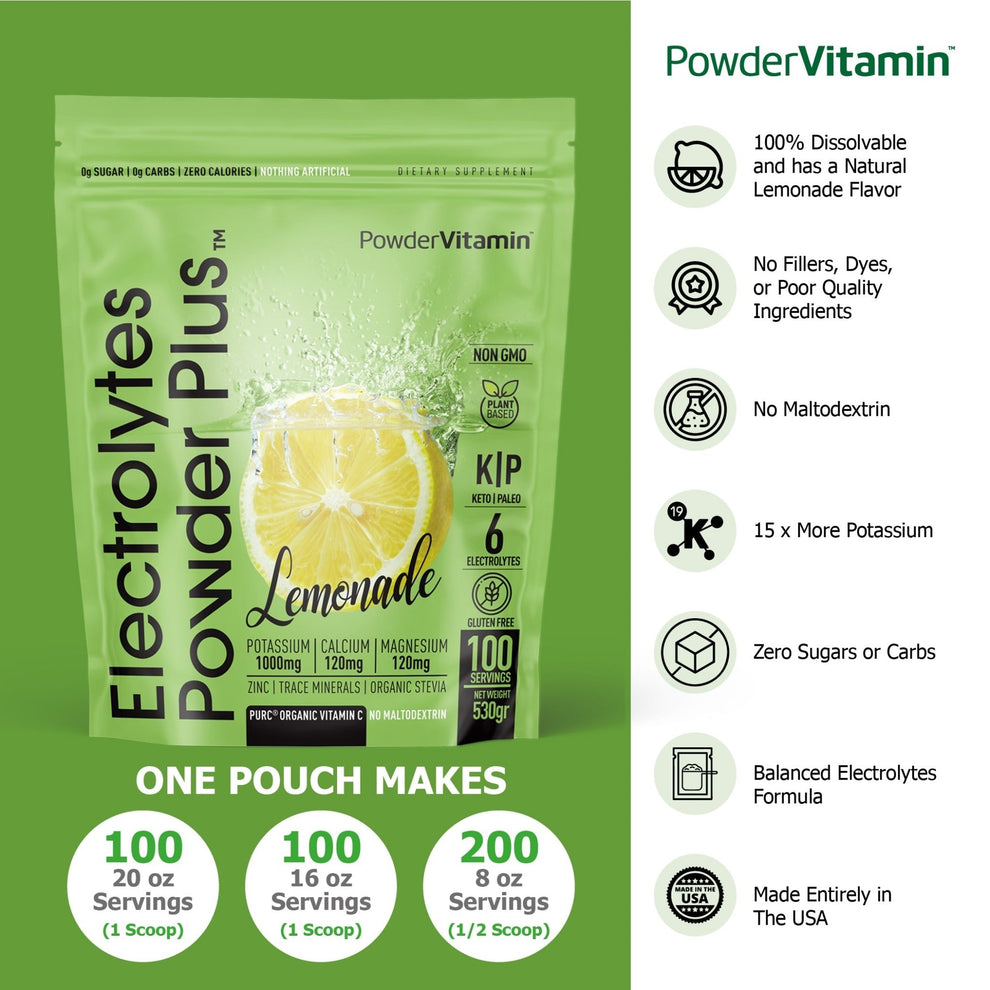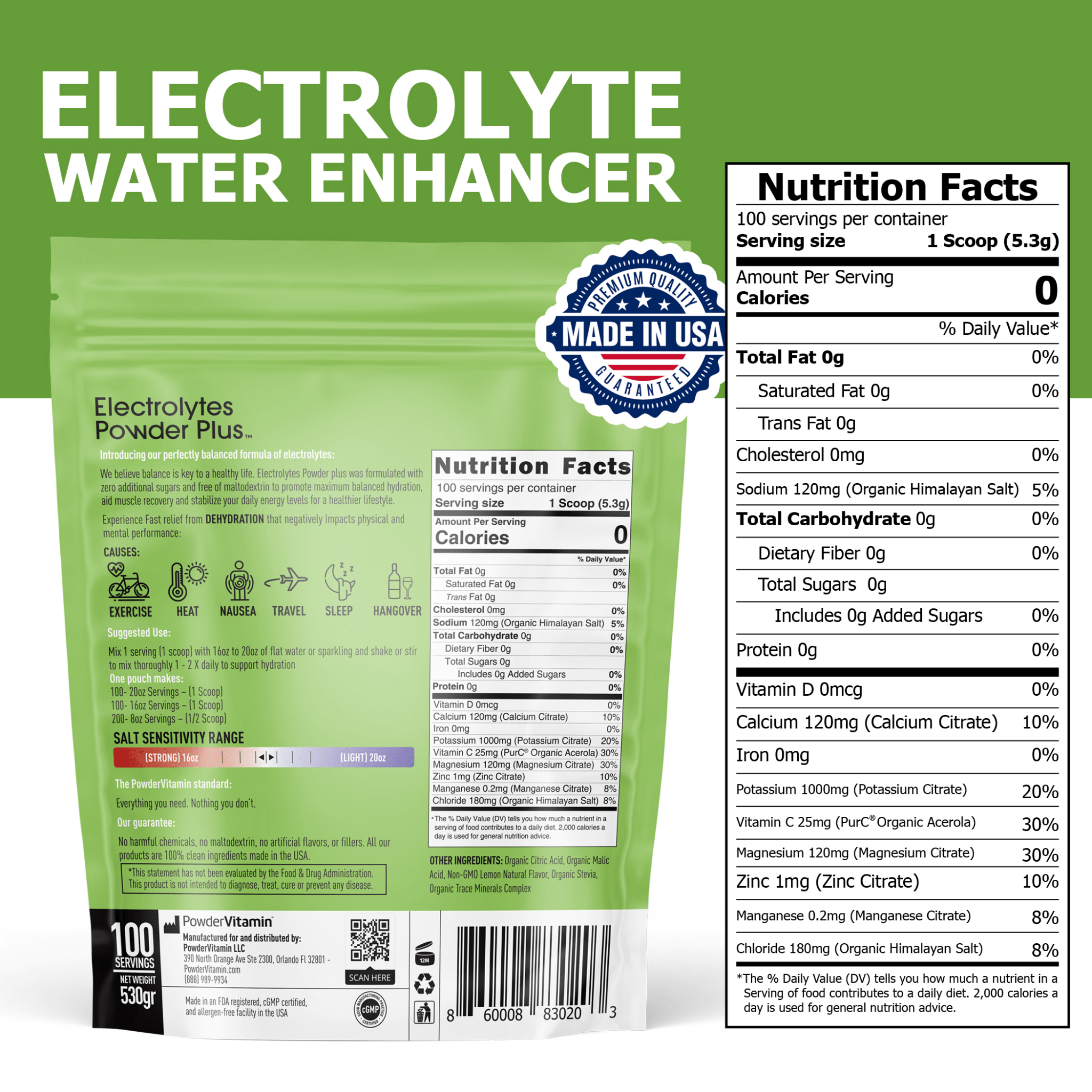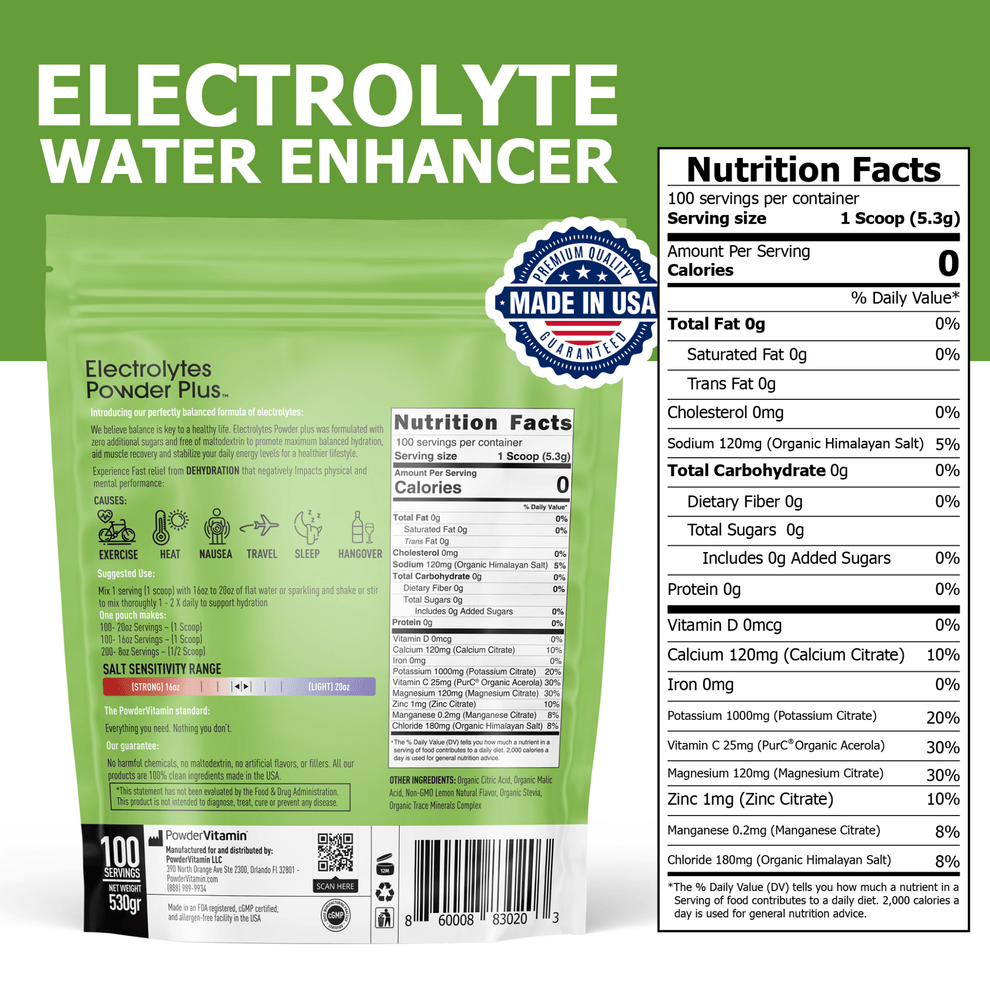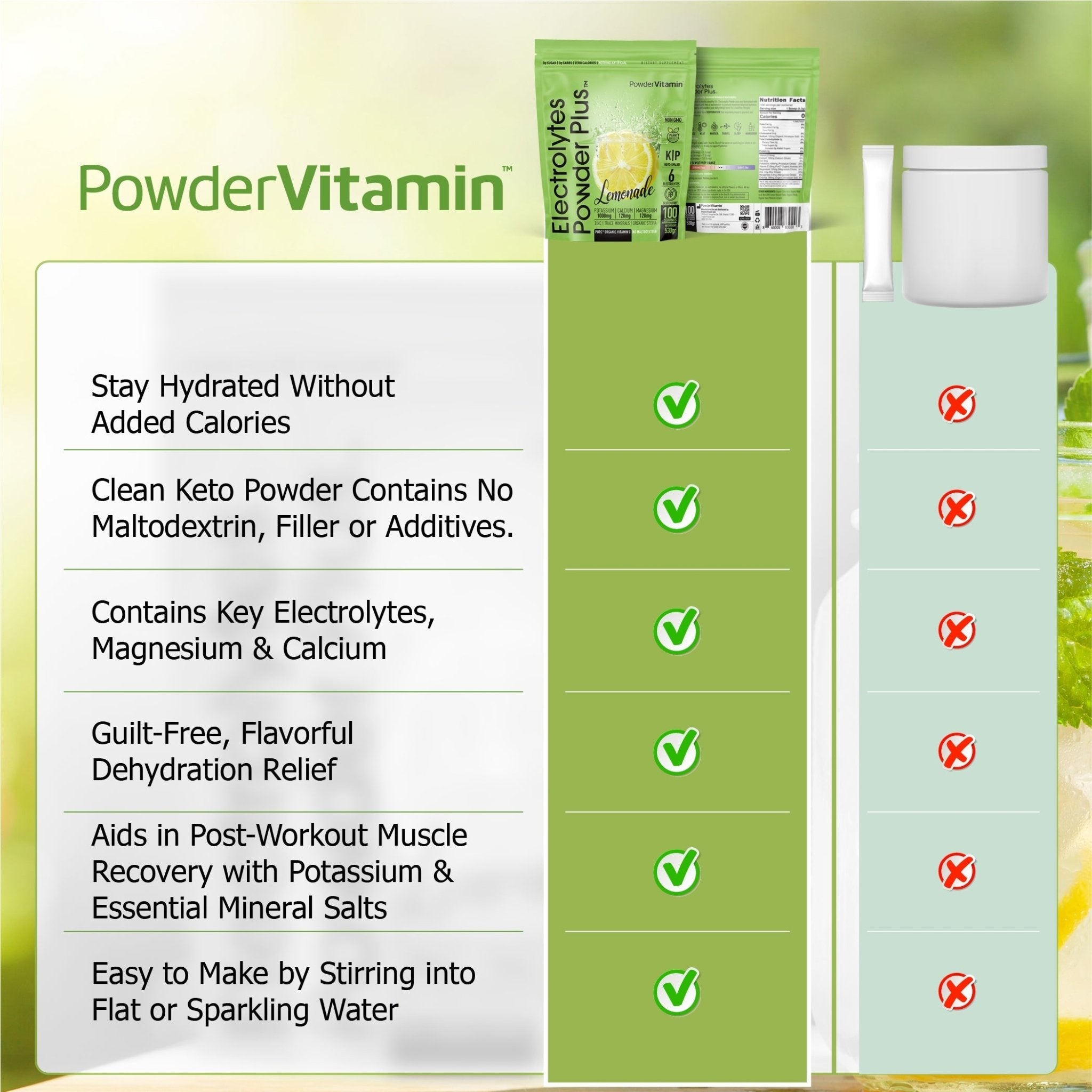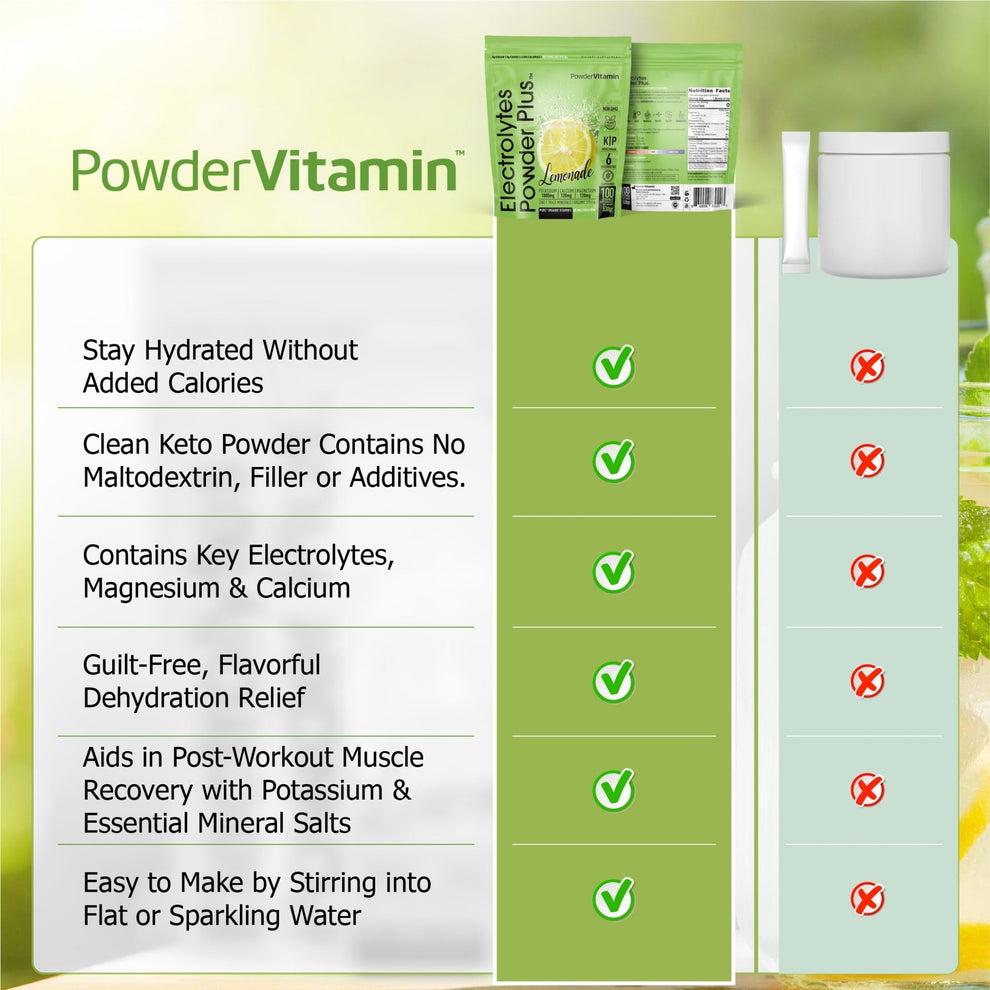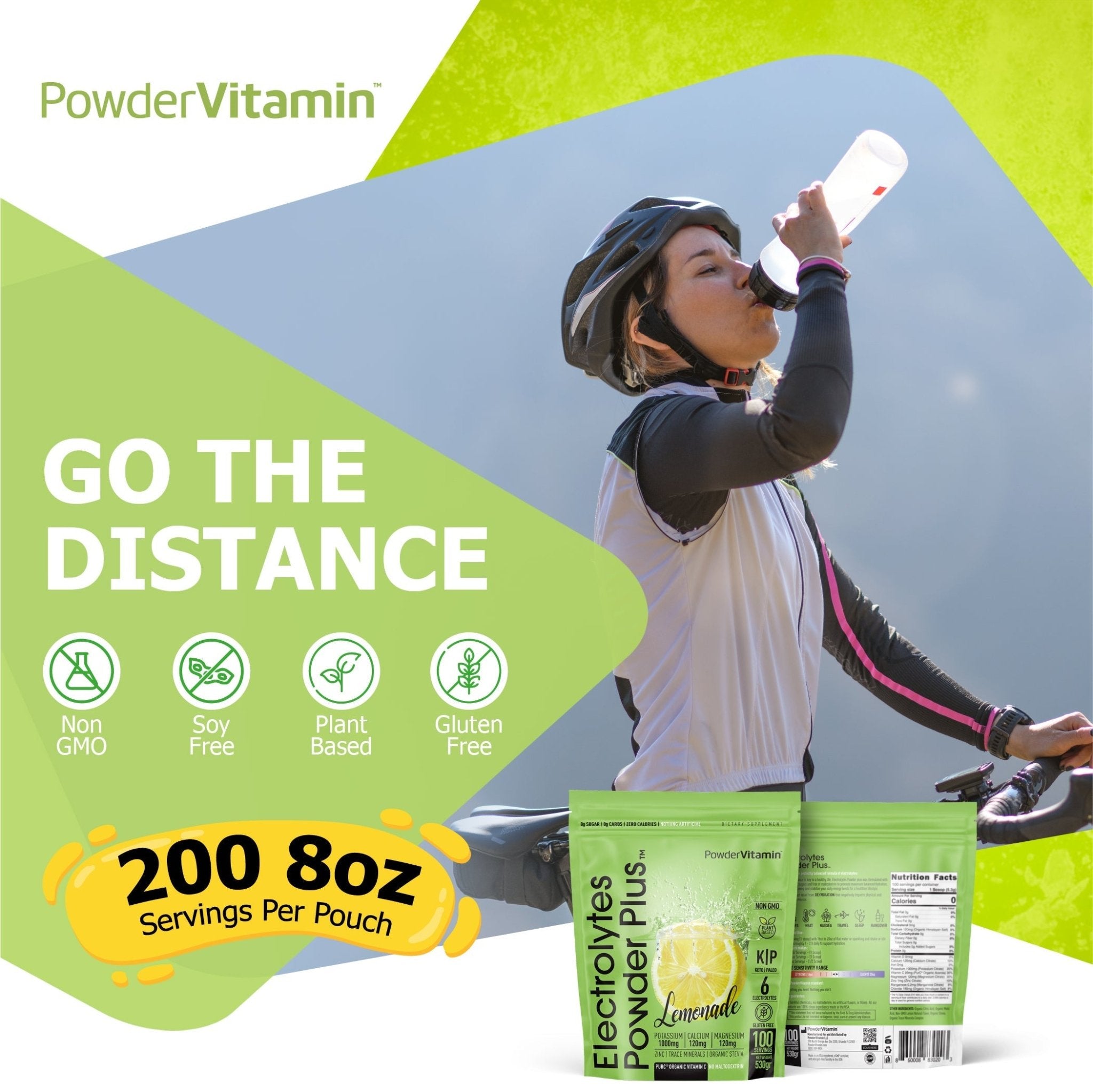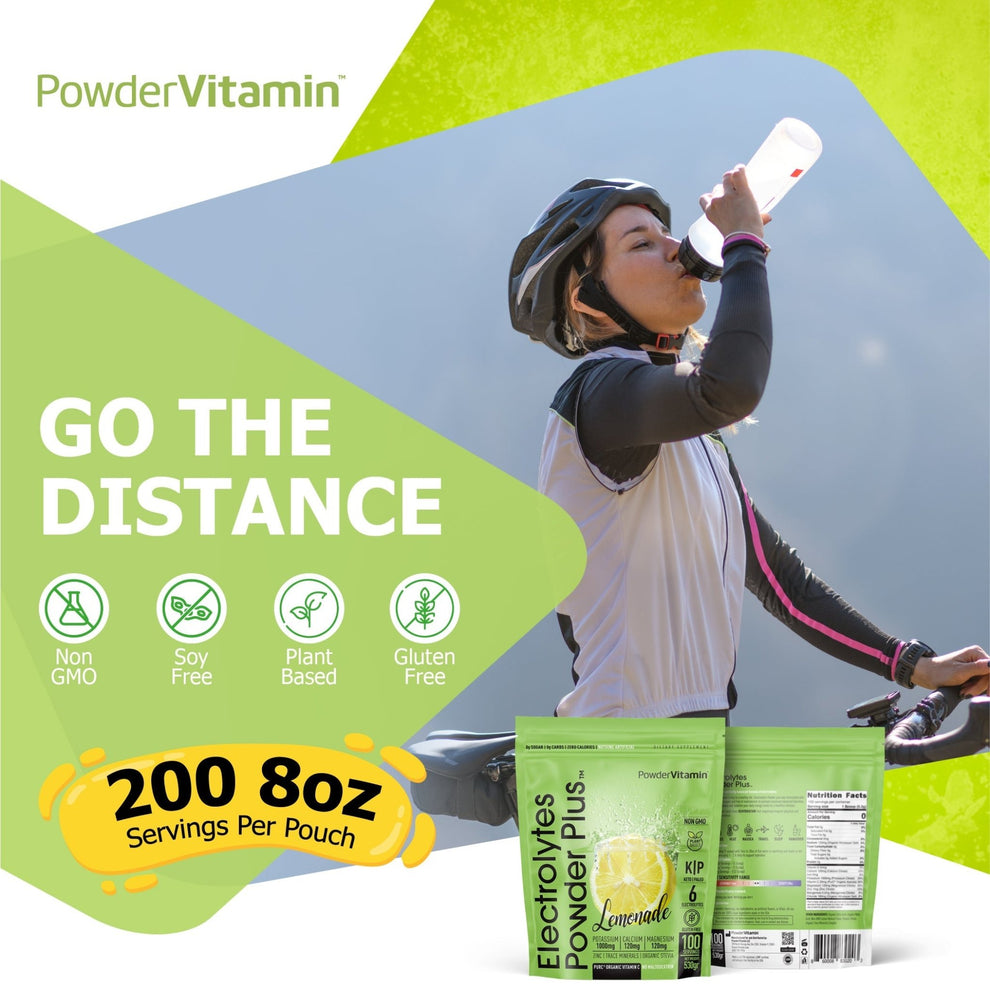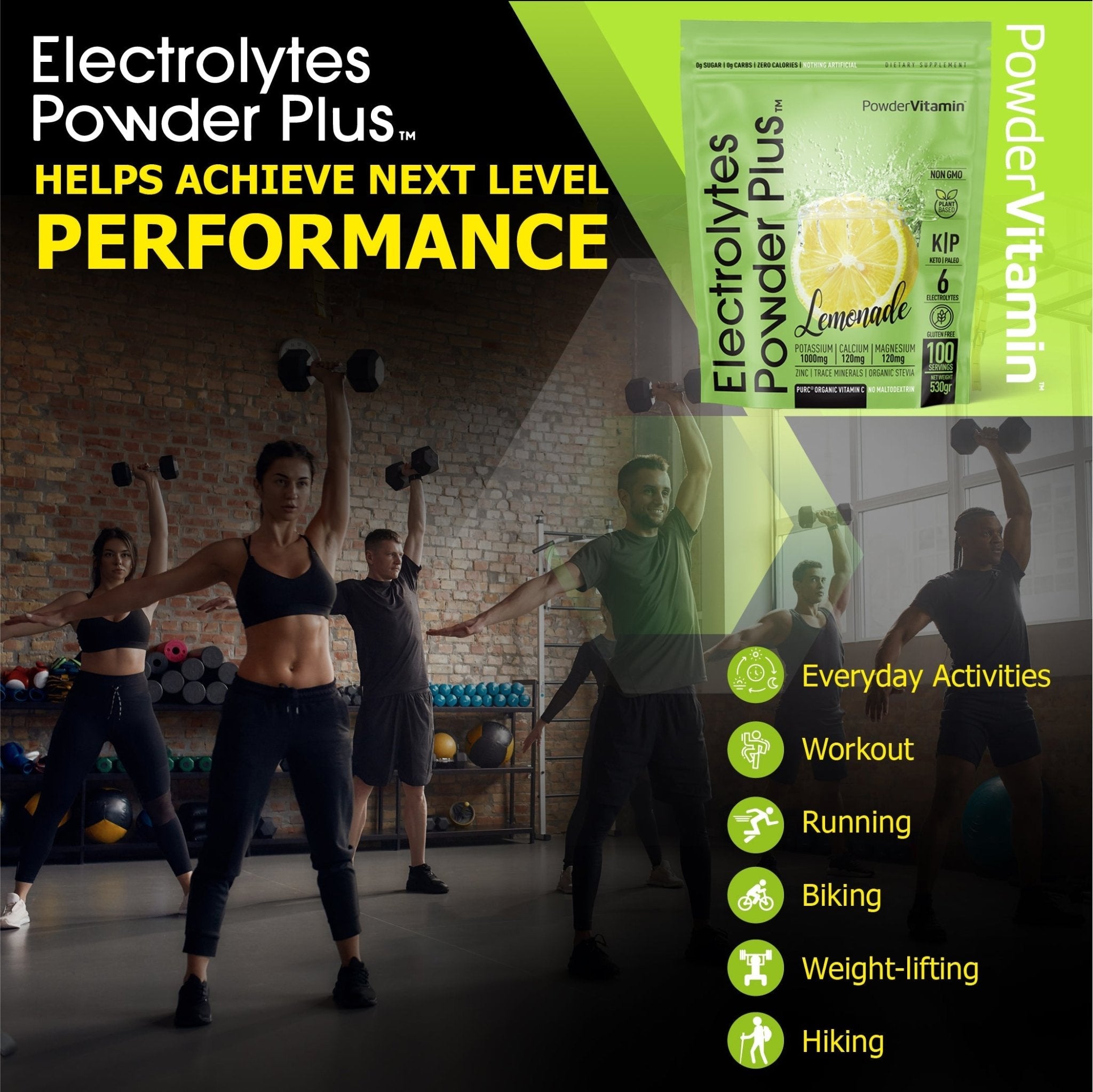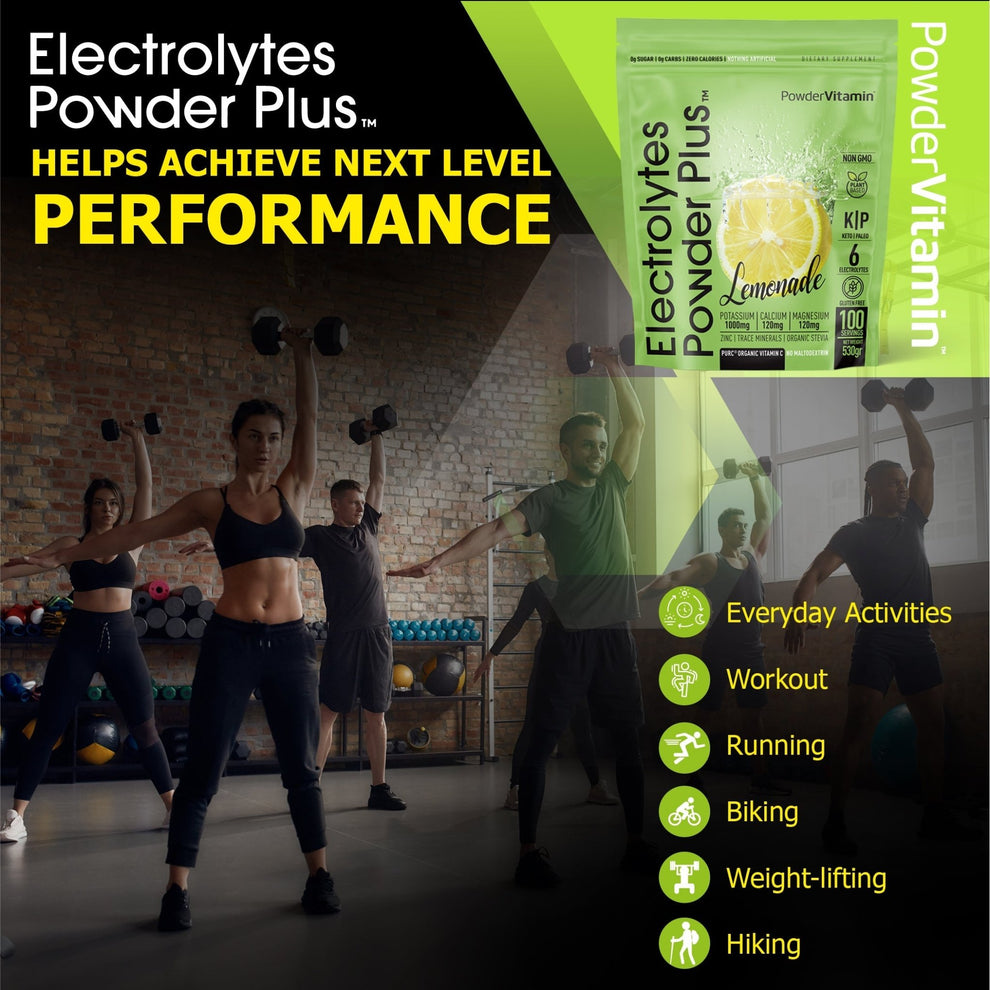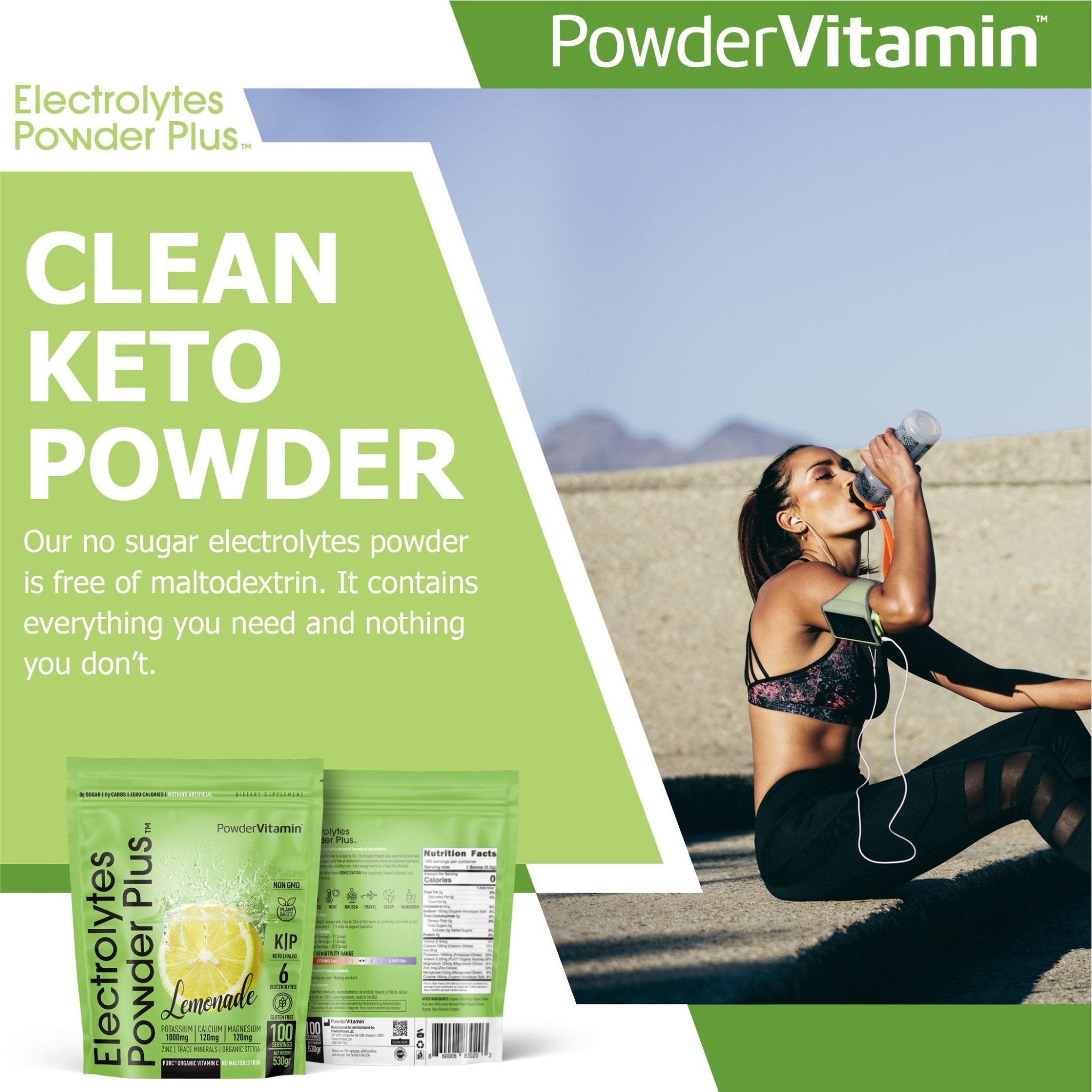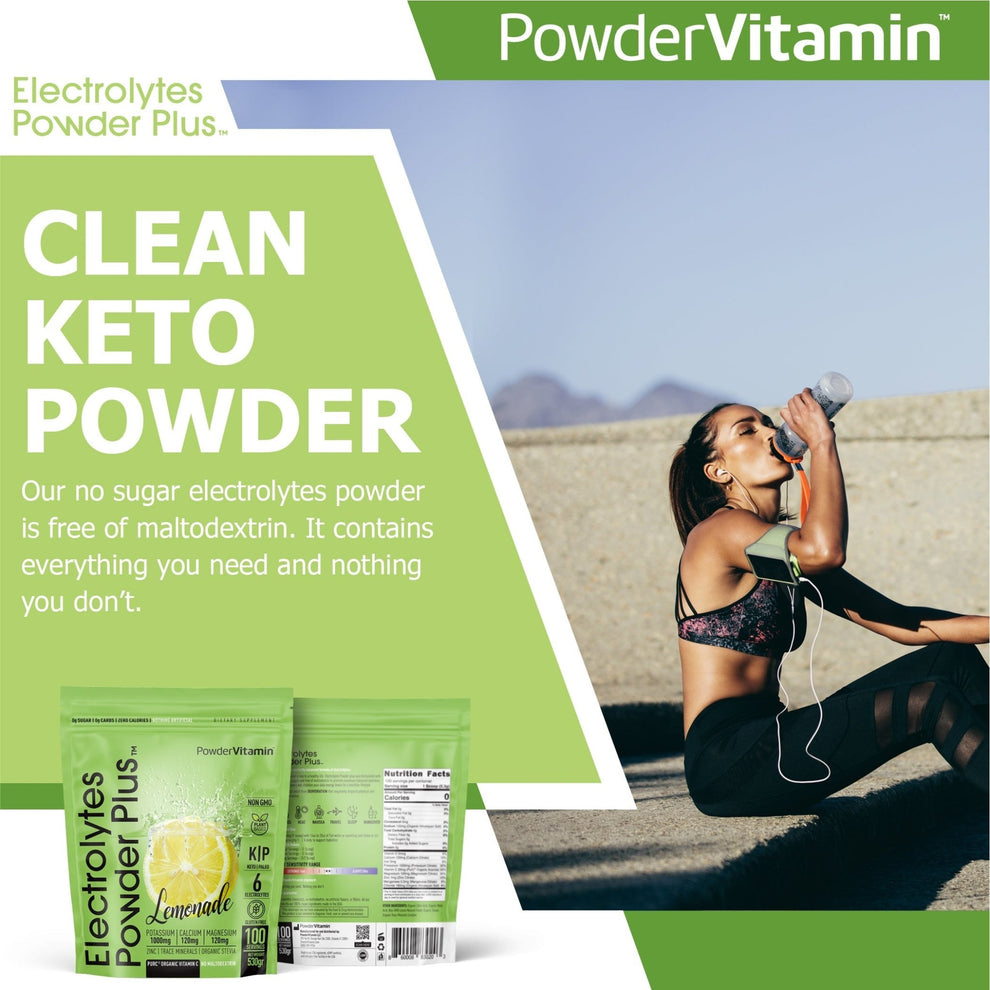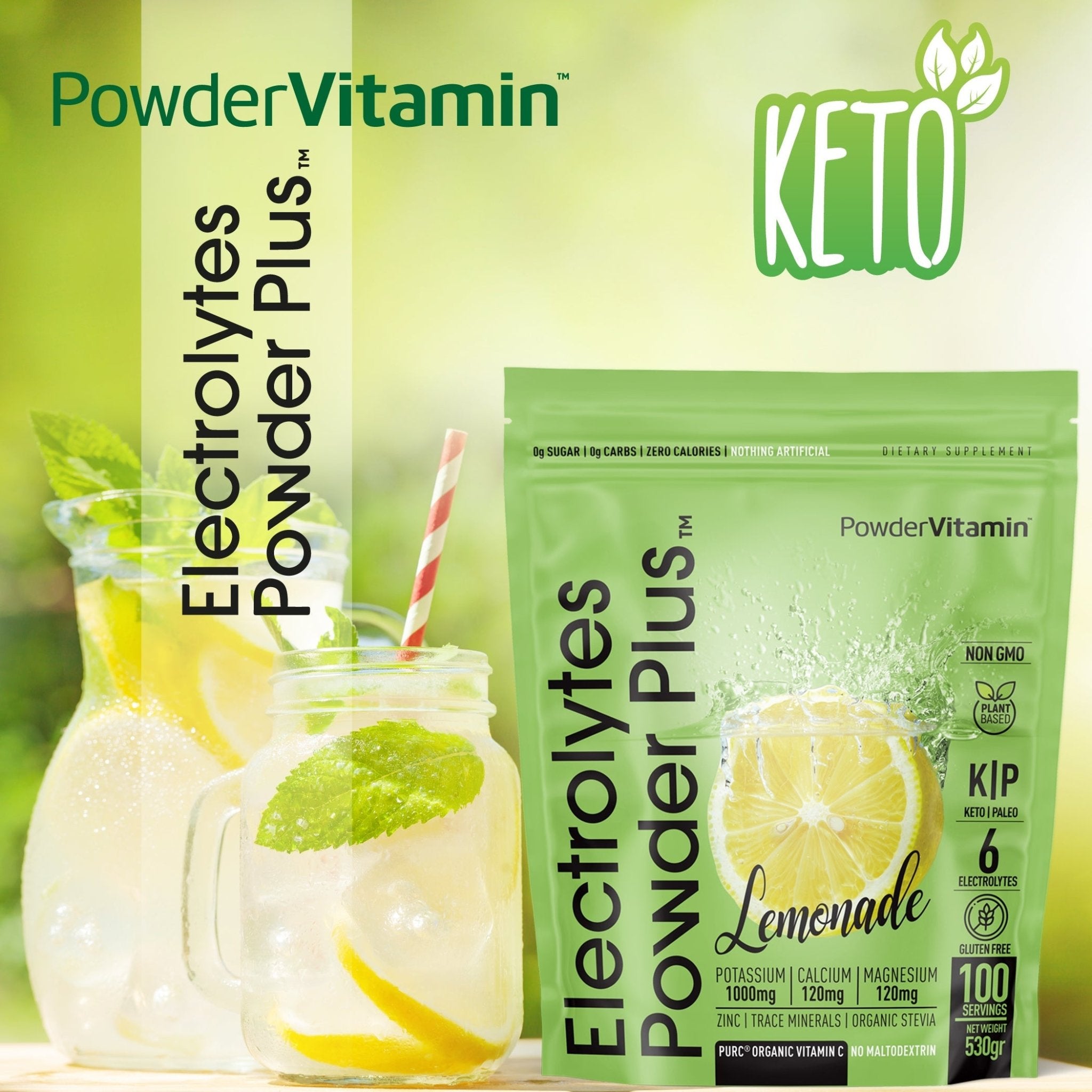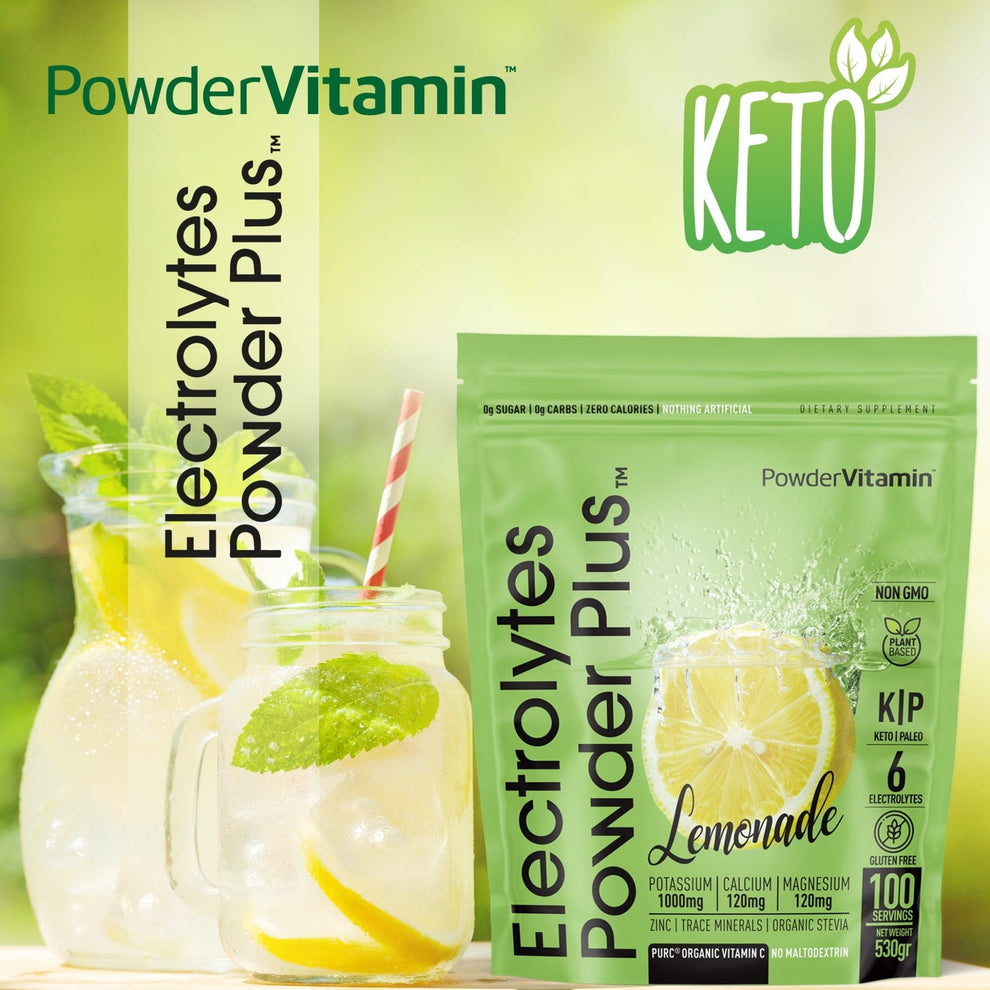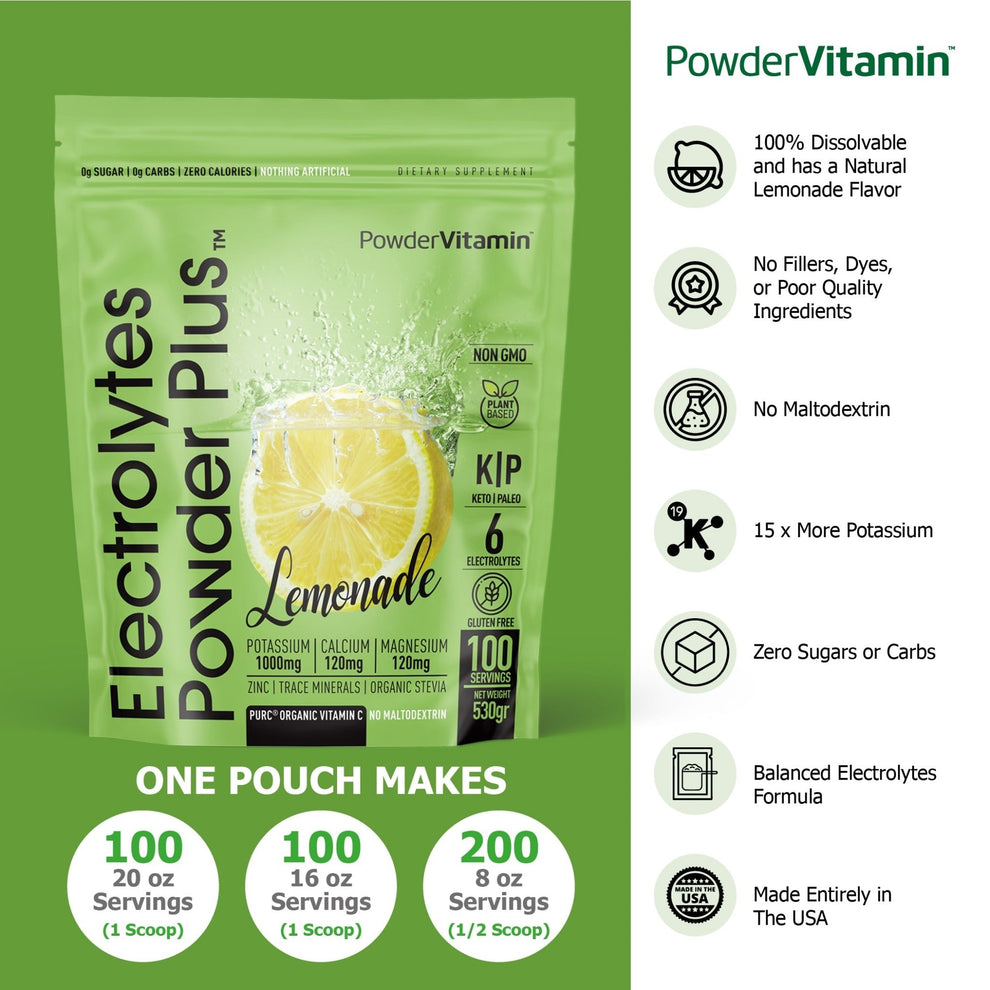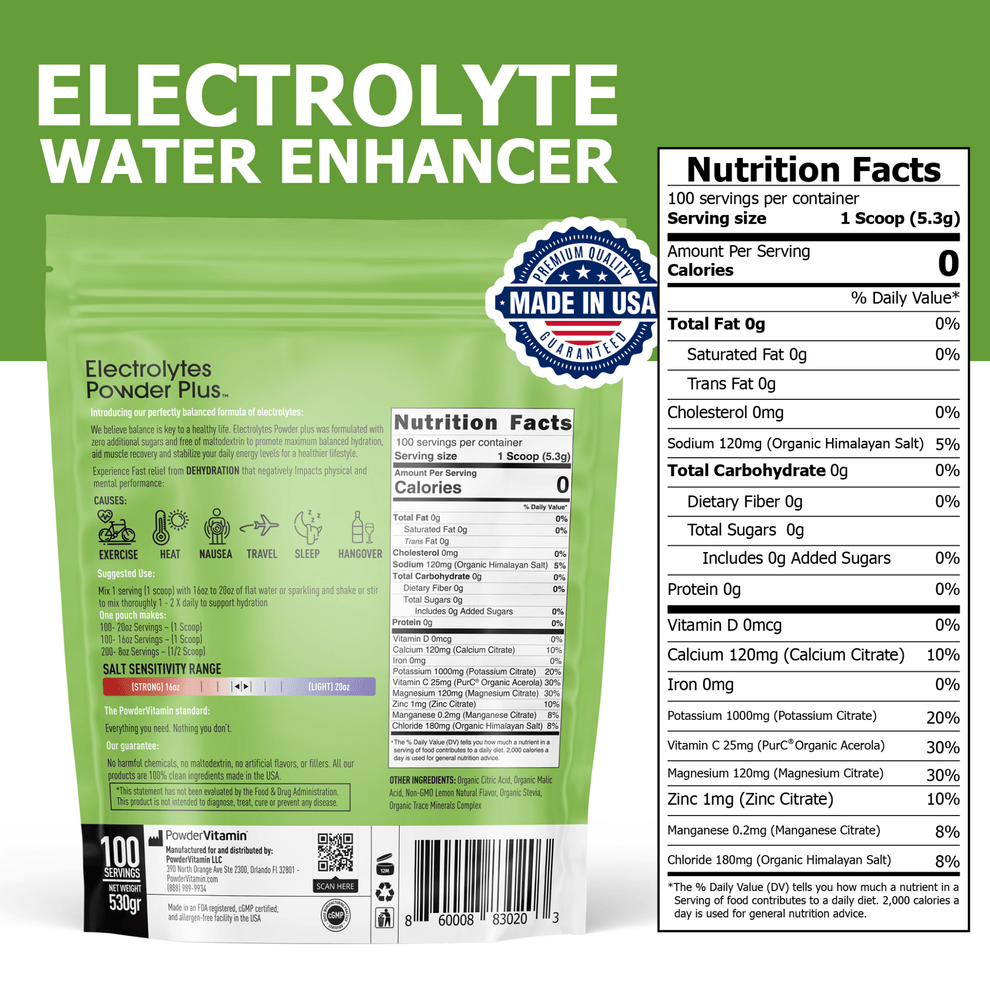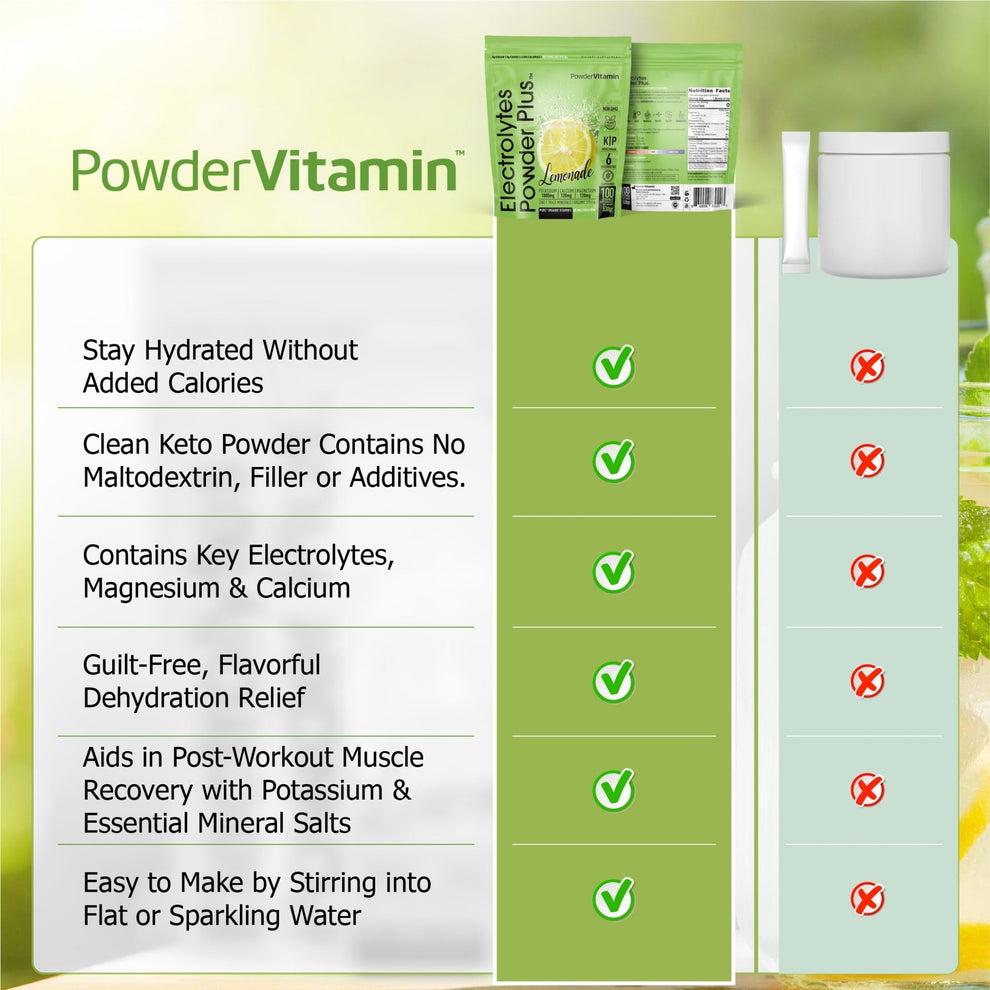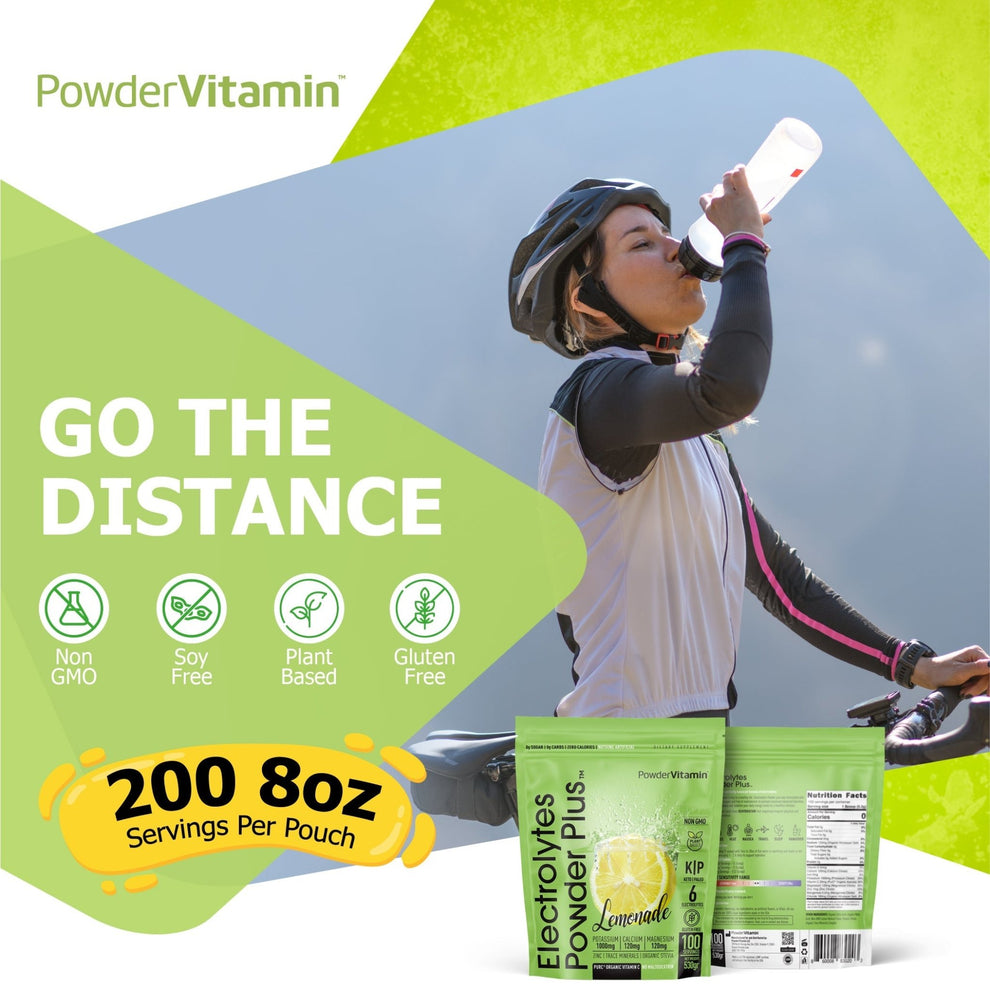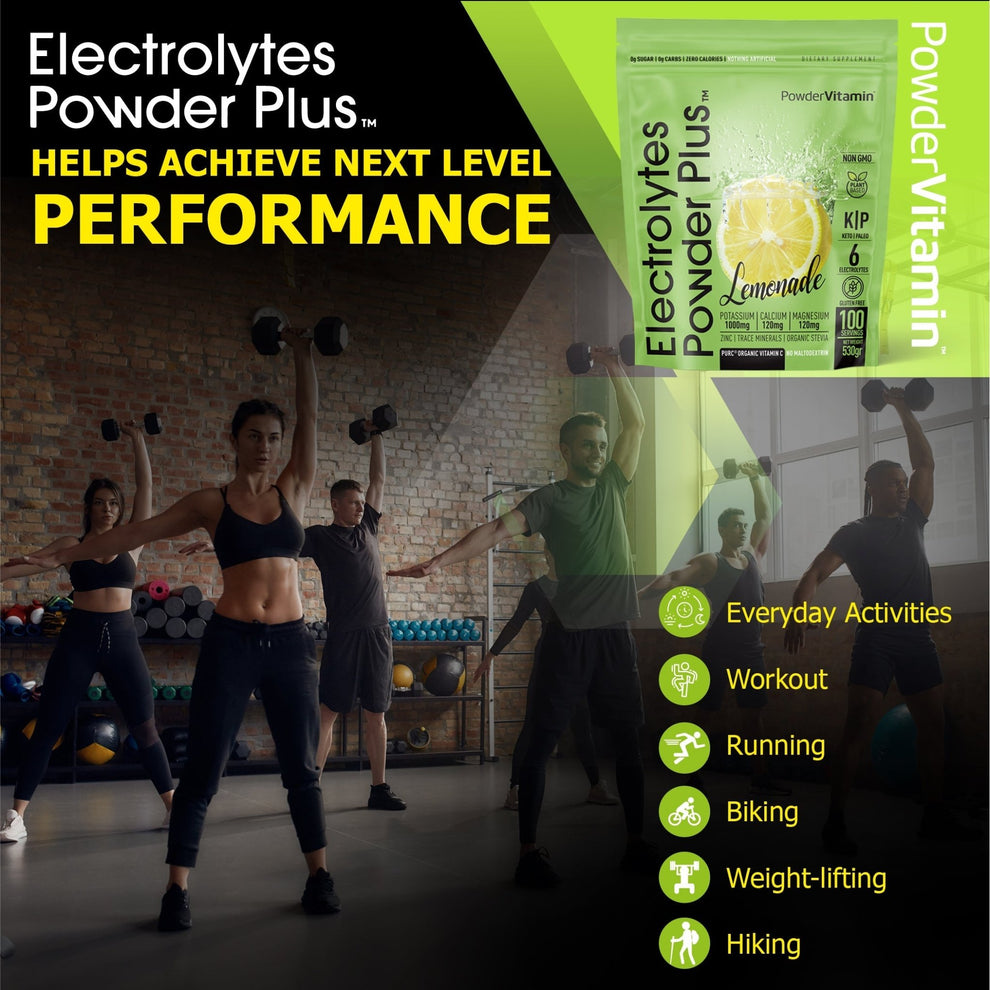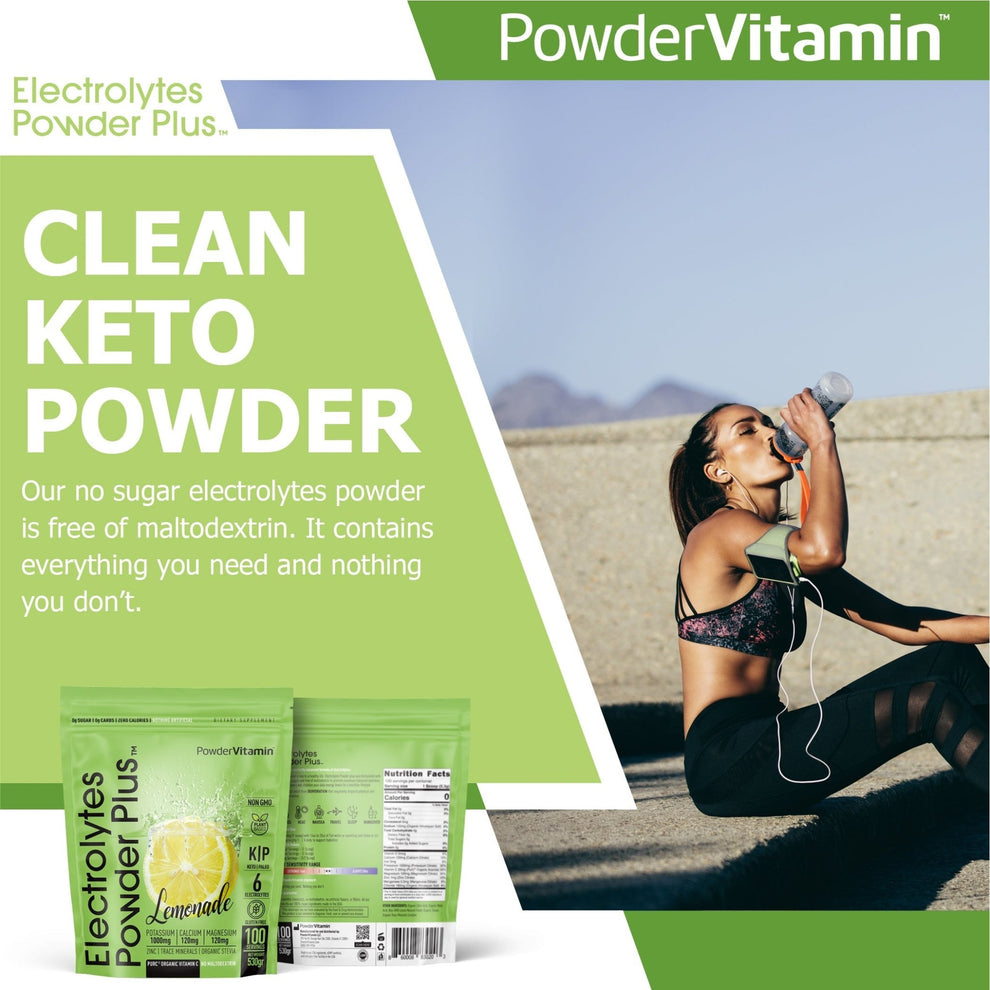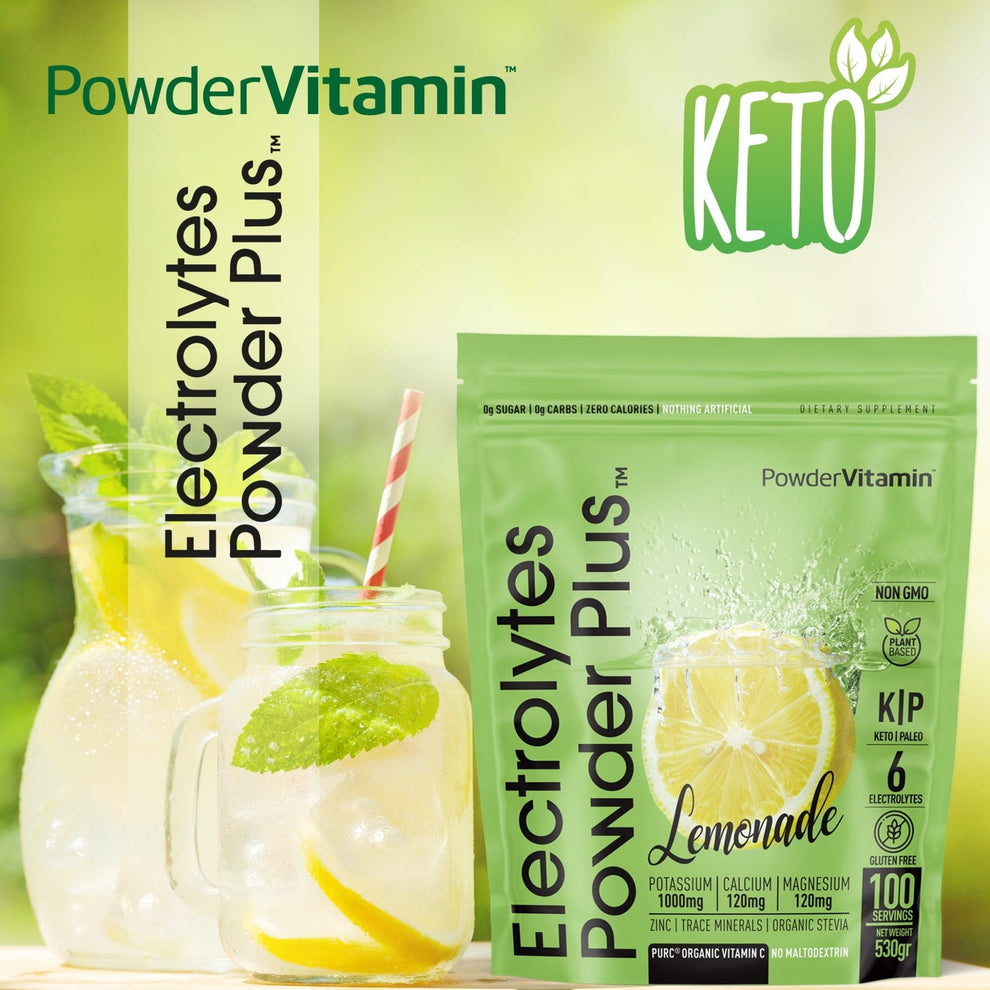 0g Sugar | 0g Carbs | 0 Calories | Nothing Artificial
Electrolytes Powder Plus
Regular price
Sale price
$34.95
Unit price
per
Sale
Sold out
()
()
()
()
()
()
()
()
()
()
()
()
()
()
()
()
()
()
()
()
Potassium 1000mg
Calcium 120mg
Magnesium 120mg
Zinc | Trace Minerals | Organic Stevia
Select Your Flavors :
Sold out
Lemonade
100 Servings
Sold out
Raspberry
100 Servings
Sold out
Raspberry Lemonade
100 Servings
Sold out
Watermelon
100 Servings
Sold out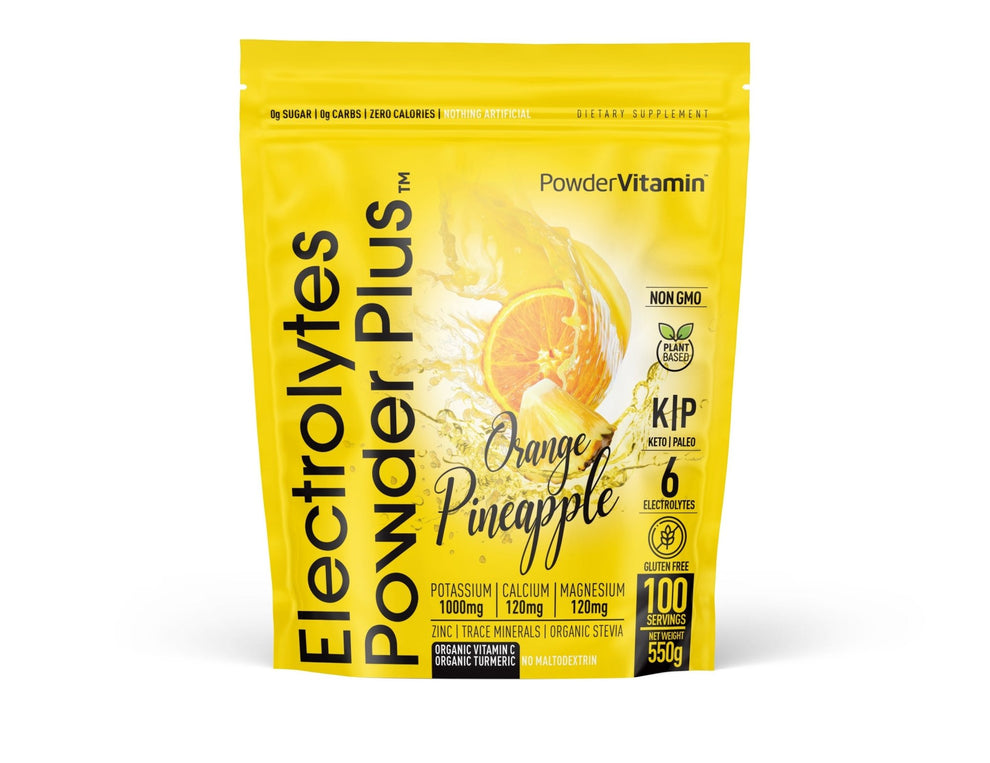 Orange Pineapple
100 Servings
Sold out
Blueberry Grape
100 Servings
Sold out
Guava Kiwi
100 Servings
Sold out
Mango Passionfruit
100 Servings
Sold out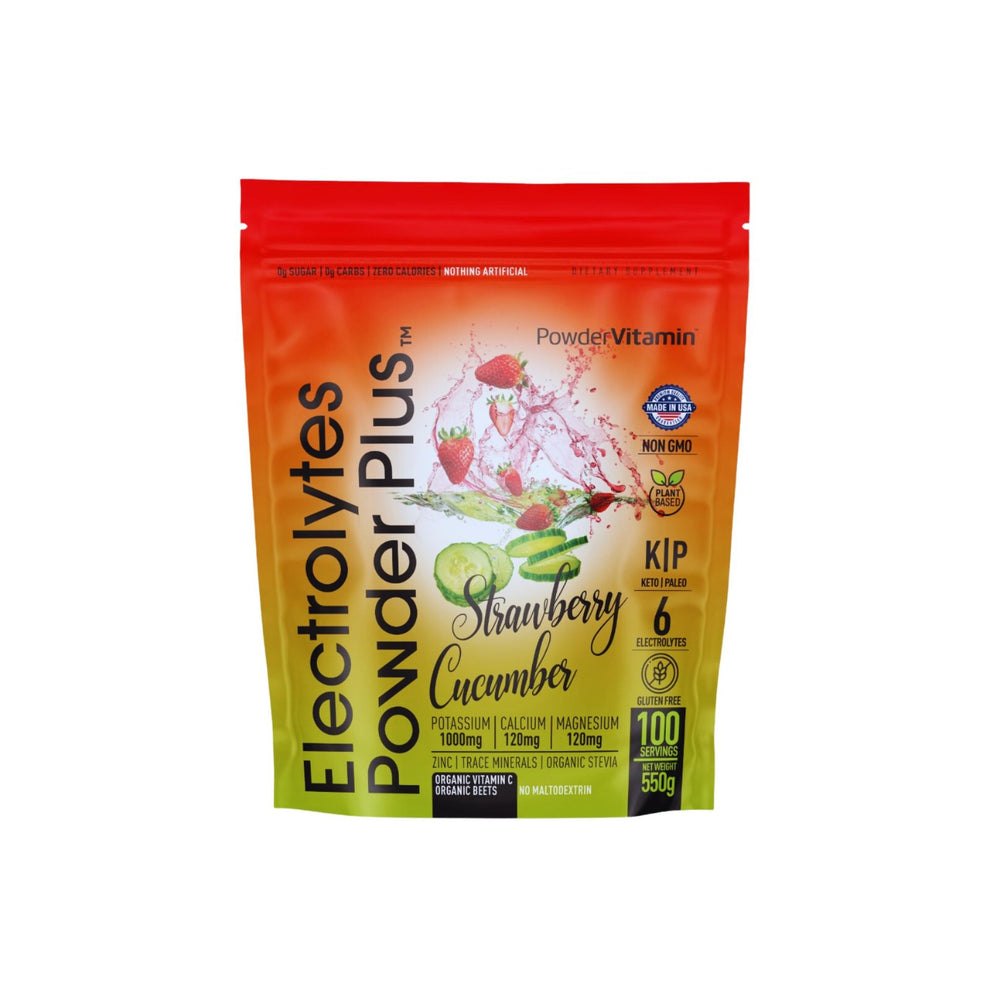 Strawberry Cucumber
100 Servings
Sold out
Tangerine Pineapple
100 Servings
Free Shipping On All US Orders
Let customers speak for us
Suggested Use

Mix 1 serving (1 scoop) with 16oz to 20oz of flat water or sparking and shake or stir to mix thoroughly 1-2 X daily to support hydration

One Pouch Makes

100

20 oz
Servings

(1 scoop)

100

16 oz
Servings

(1 scoop)

200

8 oz
Servings

(1/2 scoop)
Salt Sensitivity Range

GMP CERTIFIED

Made in an FDA registered, cGMP certified,
and allergen-free facility in the USA

Premium Quality Guaranteed

Made in USA

TRY IT, RISK-FREE!

If you're not satisfied with our product, simply contact us
and we'll give you a full, 100% hassle-free refund.

Keto lifestyle

Keto + Paleo Friendly
Do Your Homework
 
Potassium
1000mg
380mg
470mg
Servings
100
96
18
Price
$29.95
$120.00
$32.99
Total grams
530g
1536g
306g
Sugar -(calories per serving)
0
50
50
Maltrodextrin (

food additive

)
NO
-
YES
Vitamin C
Organic vitamin C from acerola

Synthetic vitamin C ascorbic acid

no
Sodium/ Chloride
300mg
500mg
1490mg
Magnesium
120
0
0
Calcium
120
0
0
Frequently Asked Questions
What is Electrolytes Powder Plus?

PowderVitamin Electrolytes Powder Plus is an advanced, balanced hydration drink with 6 essential electrolytes and trace minerals. Optimal hydration requires a good balance of electrolytes in the body. Essential electrolytes help you perform your best. The PowderVitamin Electrolytes Powder Plus formulation was created to support healthy hydration with real fruit flavors, plant-based colors, organic stevia leaf for sweetness. PowderVitamin Electrolytes Powder Plus has no sugar, calories or carbs so it's compatible with any dietary plan.
How do you make?

Pretty simple, just add water and shake or stir well. A couple of tips: our suggested serving size is 16 ounces to 20 ounces. So use one Electrolytes Powder Plus scoop (equal to a half teaspoon) to make a serving. You drink Electrolytes Powder Plus cold.
Do Electrolytes Powder Plus have any synthetic color, flavors or sweetners?

No, no and no! We promise, we never use synthetic colors, artificial flavors or sweeteners. All PowderVitamin Electrolytes Powder Plus colors and flavors come from fruit and vegetable extracts. Our sweetener is Organic Stevia Leaf Extract free of Maltodextrin. We also do not use any stimulants like caffeine. And our products are gluten-free, vegan, Paleo, Keto and Non-GMO.
What is Stevia leaf?

Stevia is an intensely sweet plant grown and used in Latin America for centuries. Rebaudioside A is an extract from the leaves which has a low glycemic index. 
What are electrolytes?

Electrolytes are charged minerals that conduct electricity to power your nervous system. The main electrolytes are sodium, chloride, potassium, magnesium, calcium, phosphorus and bicarbonate.
Why do I need electrolytes?

Electrolytes regulate many crucial bodily functions. They keep your body water optimized, your brain floating nicely in your skull, your heart beating, your muscles contracting, and much more. If you're active or on a low-carb diet, you're probably losing more electrolytes than you're consuming through diet. These need to be replaced to feel and perform your best.
Why does the keto diet increase electrolyte needs?

Two reasons. First, whole food diets like keto are often low in electrolytes like sodium, chloride, magnesium, calcium and potassium. Second, restricting carbs lowers insulin levels, which makes you lose more electrolytes through urine. It's a recipe for electrolyte deficiency, which is why many folks experience the range of symptoms known as "keto flu".
What are the benefits of taking Electrolytes Powder Plus?

Being low in electrolytes can lead to fatigue, cramps, headaches, and weakness. This is super common for keto and active folks, who lose more electrolytes through sweat and urine. Replacing electrolytes means better energy and less symptoms.
How should I take Electrolytes Powder Plus?

Take 1 scoops daily to support low-carb electrolyte needs and take and 1 extra scoop after exercise to support hydration and recovery.